Kenwood 16 ch radio with priority scan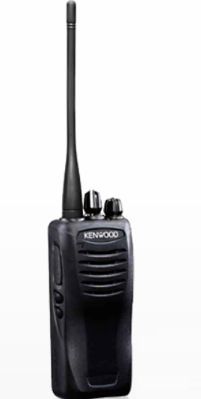 Kenwood 16 ch radio with priority scan
KENWOOD's TK-2402V/3402U portable radios deliver professional performance, enhanced features such as scan, built-in VOX, a long battery life, as well as a sleek design. Offering 5 watts of power and MIL-STD810 & IP54/55 weatherproofing, these portables have been expertly engineered to perform in the toughest of environments.

Compact Design:
The rounded contours of the TK-2402V/3402U provide a superbly comfortable grip, while the non-slip elastomer channel knob with improved torque characteristics and an enlarged PTT button ensure positive tactile response during operation.

Tough Tested & Water Resistant:
Built to perform in the toughest environments, the TK-2402V/3402U has passed the demanding IP54/55 dust and water intrusion tests – both with and without an optional speaker microphone. It also meets or exceeds 11 stringent MIL-STD 810 C/D/E/F/G environmental standards, including "driven rain".

Enhanced Audio Quality:
As an experienced audio specialist, KENWOOD has drawn on decades of expertise to ensure that the sound quality of TK-2402V/3402U is undeniably clearer and crisper, as well as loud – thanks to the 36mm-diameter speaker, which delivers up to 1 watt audio output.

Ultimate Performance:
Output Power is 5W for both VHF (TK-2407) and UHF (TK-3407). Additionally, the UHF frequency coverage on the TK-3407 is 70MHz.

Multiple Signaling:
QT / DQT / DTMF

FleetSync® PTT ID, SelCall
2-tone (encode/decode)
5-tone (encode/decode)*