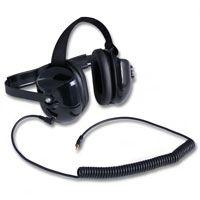 Black scanner headset
Behind the head listen only headset

Our listen-only headsets are designed for all day comfort and feature cushy soft oversized acoustic foam ear seals that are ultra light and incredibly comfortable. Experience the comfort and performance of a Frank's Radio Service listen-only headset.

The FRS-H2000 behind-the-head design features a fully adjustable Velcro® head strap and a rugged spring steel back band. Optional chin strap available.

* Exclusive patented PNR™ audio technology
* Certified 24dB NRR
* Powerful Neodymium speakers
* Detent volume control
* Lightweight, comfortable, easy custom fit
* 6 ft. easy-flex coil cord
* Rugged cables with polyurethane insulation
* Spiral shielding reduces RF interference
* 3.5mm gold-plated plug provides superior audio

Built-in detent volume control, rugged construction, chemical and heat resistant high impact ABS plastic ear cups, rugged cables with durable polyurethane insulation and spiral shielding to reduce RF interference, 6-foot coil cord easily extends to full length without pulling the headset off, and an industry standard 3.5mm plug, gold plated for positive contact and superior audio quality.

Rich in features and built with the end-user in mind, Frank's Radio Service delivers outstanding performance, comfort and audio clarity, making it one of the best employees on the job. Works hard, always reliable and desired by everyone.